Dynamic simulation for solar power providers
Pieter Dermont February 18, 2015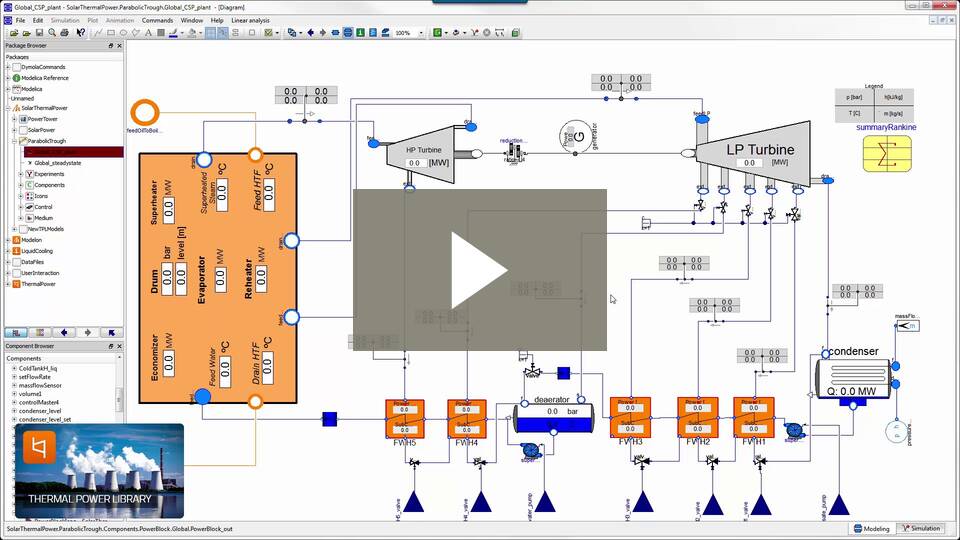 Video demo produced by Pieter Dermont, Modelon
Purveyors of renewable power are discovering strong allies in their efforts to safeguard operations and minimize costs for their plant design and control systems: Dynamic simulation tools based on Dymola and a Modelica model library containing solar components and systems, built on top of Modelon's Thermal Power Library (TPL).
These tools enable you to address dynamic issues early in the design cycle, dramatically reducing problems that occur when components and systems go online. Dynamic simulations built with Dymola and the Modelica library enable you to:
Understand operational modes and transitions between them
Design a corresponding control structure
Conduct studies of system configuration variations
Optimize size and design of critical components/subsystems such as thermal storage systems for various operational modes
Tune the control system for optimized operation
Easily import weather data and other critical information to test system configurations under varying real-world conditions
Conduct steady-state and dynamic analyses within the same environment
This 3:14-minute video shows you how to set up a model based on a predefined library and then run simulations for day-based production strategies, including energy storage and temperature controls of the solar circuit.